This month, my Pearista call of duty is to introduce you all to the newest
Save the Date Card
and
magnet
designs. As we approach wedding season, you want to send out just a sneak peek of the awesomeness that will be your wedding. And look no further than the amazing selection of Save the Date Cards at
Pear Tree Greetings
. They are fun, beautiful, one of kind-just like your wedding should and WILL be!
They will catch the eye of your future guests, and it will give them something to look forward to!
Here are a few of my favs: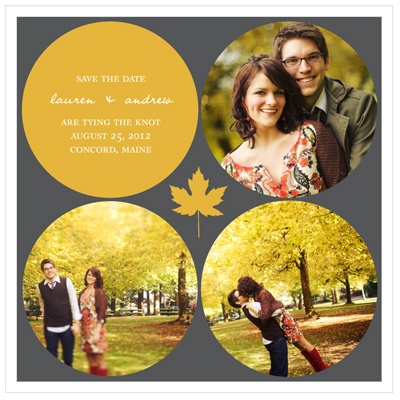 Not only can you purchase these designs in card form, you can also find a great selection of
Save the Date Magnets
! I LOVE that idea, it's great for someone like me who will inevitably lose the card before I can write the date down :D All of these can be purchased for an amazing price, and if you're a bride/groom on a budget, than Pear Tree Greetings is where it's at because you get quality and elegance at just the right price!
Buy it!
Check out all Pear Tree Greetings has to offer and Don't forget your Save the Date Cards and Magnets!
Stop by the Pear Tree Greetings Promo Page and check out the great savings discount codes-right now you can get $10 off your save the date and invitation cards, free shipping, save 10% off on graduation announcements and MORE!
Mandatory Entry
: What will you buy if you win the Gift Card for
PTG
??
Extra Entries:To qualify for extra entries, you must first complete the Mandatory entry. Please put each entry in a separate comment. (and for example, if you are already a FB fan, just leave a comment stating :i'm a fan on FB) if your email is not in your profile, please leave your email in one of your comments.
*For 3 entries, Add my button to your blog, located near the top left side and leave a link to your blog in your comment-leave 3 separate comments
*Become a
FB fan
of Life with the Stevens
* For 2 entries, Tweet about this giveaway "I entered to win a $20 GC for @peartreegrtngs from www.lifewiththestevens.com @hlstevens" You can tweet once a day for a daily entry.
*For 2 entries, Follow my blog through Google Friend Connect, located on the right hand side of my blog *Vote for my blog by clicking the "We're on the Fence" button on the right side of the blog, above the counter. Each click of that button gets me a vote! Vote once per day for a daily extra entry.
Entrants from the US and Canada are eligible. Contest Ends on February 25th at 11:59 pm EST. Winners will be chosen by random.org and announced February 26th, 2011. Winners will be notified by email with "You Have Won the Pear Tree Greetings Giveaway" in the subject line. Winners will then have 48 hours to respond before a new winner is chosen.
Disclosure/Disclaimer: I received a product for review, myself and PTG will be responsible for prize distribution. For more information on this blog and my posting practices, please refer to my disclosure policy.

|