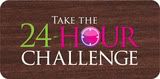 I hate doing the dishes. I don't throw around the word hate too much, but I can honestly say that I hate doing the dishes with every fiber of my being! I am beyond thankful that we have a dishwasher. It makes my life as a stay at home mom just that much easier by giving me one less thing to do!
Now if you know me, you know I'm not that great of a cook. I burn things, and leave my dishes out well until the next day. I'm so embarrassed to admit that, but you know I'm not *that* perfect :D
I was given the opportunity to do the Cascade dishsoap 24 hour challenge. I was pretty excited to do this review as it involved dessert! I was sent a lovely baking dish, a recipe for blueberry cobbler, and a package of Cascade Complete All-in-1 Action Pacs to use with the following instructions
* Bake a Blueberry Cobbler.* Enjoy!
* Set the empty baking dish out for 24 hours
* Without rinsing, put it in the dishwasher with Cascade Complete
How perfect :D I had all the supplies needed and baked this delicious dessert. It was awesome, and just what we needed on a cold and rainy day. My sister was visiting, so with her help along with myself, Bill, and Cooper, we finished the cobbler in one night. So that made it easy to begin the challenge. The dish sat out like a centerpiece on my dining room table while we went about our day. I didn't soak it our wipe it out, I just let the cobbler remnants dry out and harden.
Twenty-four hours went by and it was time to get the party started. The dish went in the dishwasher, one Cascade All-in-1 ActionPac went in the dispenser and I closed the door and went on with my evening.
I was kind of nervous. I thought this wouldn't work, especially with my bad luck. I thought my dishwasher would somehow fail me. But no, the dish came out spotless.SPOTLESS!!! This means I can continue on with my lazy ways of not washing my dishes and cleaning up after myself after dinner! Haha, no I won't do that, but I was impressed! We've tried our fair share of dish soap, trying every brand name there is, and Cascade did exactly what it said it would-it conquered tough foods and greasy messes. And just like that, I could focus on enjoying the meal "without having to worry about the clean up". Awesome!
I really encourage you to take the 24 hour challenge too, and try Cascade Complete All-in-1 ActionPacs, you won't be disappointed!
"Cascade Complete All-in-1 ActionsPacs give you the confidence of a job done right. It breaks down, dissolves, and rinses away tough food particles without the need to pre-wash." visit
www.cascadeclean.com
for more information.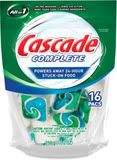 So, thanks to Cascade and P&G, I get to give one lucky reader a $25 Walmart gift card! Great, right?
Here's how to enter:
Mandatory Entry:
Leave me a comment telling me what meal makes the most mess in your cookware! Please leave your email address in your comment.

Extra Entries:
To qualify for extra entries, you must first complete the Mandatory entry. Please put each entry in a separate comment. (and for example, if you are already a FB fan, just leave a comment stating :i'm a fan on FB) for each entry/comment, you must leave your email address.
*Become a
FB fan
of Life with the Stevens-leave a comment saying so
*Follow Life with the Stevens on
Twitter
leave a comment saying so
*Tweet about this giveaway and/or leave a status update on Facebook mentioning this giveaway, make sure you use @Life with the Stevens on facebook or @Hlstevens on Twitter so it gets back to me!
*Follow my blog through google by clicking the follow button on the right side of the page
*Blog about this giveaway on your blog and leave a link to your blog in your comment
Entrants from the US only are eligible. Contest Ends on May 7th at 12:00 pm EST. Winners will be chosen by random.org and announced May 8th, 2010. Winners will be notified by email with "You Have Won the Cascade 24hr challenge Giveaway" in the subject line. Winners will then have 48 hours to respond before a new winner is chosen.
Disclaimer/Disclosure: This product review was based on u sing complimentary Cascade product provided by P&G. Bloggers also received a Walmart gift card to share with their readers. P&G does not represent or warrant the accuracy of any statements or product claimes made here, nor does it endorse any opinions expressed within this blogsite.