Laura is the awesome mama who created my new blog design! She is super sweet, and it was a pleasure working with her. Here's your chance to get to know a little more about Miss Laura Jane :D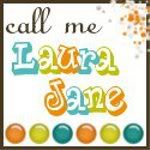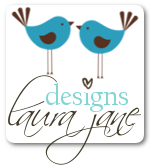 1. Tell us about yourself-family, job, things you like to do

I am a basket case! I love my husband, my son, my God, and my life. Sometimes a little gray cloud will come out and rain on my parade, but I remember how blessed I am to just be alive and to be loved. My son is going to be a year old this month and I weep like a little girl just thinking about it. I work two days a week at an insurance company and miss my boy every second of the day. I'm obsessed with bread, Harry Potter, scrapbook paper, empty {and lined} journals, and paranormal romance novels. =)

2. What is your blog about?
I blog about my family- Mason is my first child and the joys of diving head first into parenthood needs to be broadcasted! It's hilarious, depressing, stressful, spectacular and consuming all at the same time. Not to mention the fact that if I didn't write it down then I for sure would forget it. =)
3. What inspired you to start your blog?
When I was pregnant I decided that my family should have a glimpse into my life. It was a total family only blog, chock full of fluffy dialogue and boring pictures. Then I realized I loved to write. I loved putting my thoughts to the proverbial paper. It's therapy for me and then it dawned on me- there are other women out there just like me. And connecting with them now means the world to me. I would shrivel without it.

4. How do you fit your blog into your schedule? Do you set aside certain times of the day to blog?
Funny you ask- I don't. I blog in the morning, in the middle of the day, on my lunch break, as Mason is eating/napping/bathing, and into the wee hours of the morning… I find this is the best way to capture the moment. I just took an adorable picture of Mason? Must blog it. Husband just ran screaming like a school girl from a half dead wasp? Must blog it. However, I do need more structure in my blog life. Start scheduling things, writing down ideas, etc. It's on the top of my list o' things I'm procrastinating on.

5. What do you hope to achieve in the future with your blog?
Memories. I don't want to become a Dooce or Blair (though having that large a reader base would be surreal) I just want to make friends. The kind of friends you can't help but gab about when you're a blue haired lady. I just started doing custom blog design with Laura Jane Designs in hopes that one day I don't have to leave my son two days a week while I work a job I hate. I want to be with him always, watch him learn and grow. I never want to miss another of his "firsts."
I hope to achieve happiness. I hope to achieve friends for life.